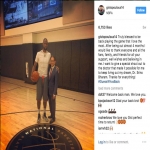 American professional basketball player James Gist poses with Dr. Srino Bharam on the court. James shares his love for being blessed to come back to the sport of basketball.
James tells his fans, "Truly blessed to be back playing the game that I love the most. After being out almost 4 months I would like to thank everyone and all the fans, family, and friends for all your support, well wishes and believing in me. I want to give a special shout out to the doctor that made it possible for me to keep living out my dream, Dr. Srino Bharam. Thanks for everything! #GuessWhosBack."
Specializing in Hip and Groin Injuries
Dr. Bharam loves to see his patients from initial consultation to surgery, when necessary, all the way through therapy and training. Specializing the the interconnectedness of hip and groin injuries makes Dr. Bharam a leader in the field of getting athletes back into the game.
Dr. Bharam is so happy to see James recovering so well and wishes him the best of luck for the rest of his lengthy professional career.
Keep with with James and his professional success on his instagram account.