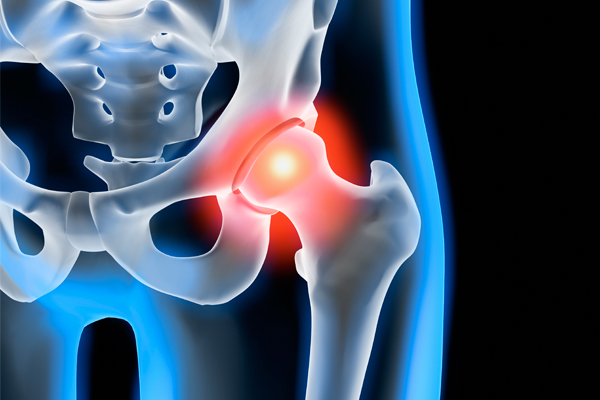 Within the last decade, our understanding and ability to treat hip injuries in athletes has grown exponentially. Thanks to the advancements in arthroscopic technology and clinical research, athletes can return to sports, and active people can get back to living an active lifestyle.
Debilitating hip pain due to a labral tear can impact routine daily activities, athletic ability and performance. A hip labral tear is an injury of the hip labrum, which is common among athletes and often hard to diagnose. Research shows 69% of patients without hip pain had labral tears!1 Sports such as soccer, hockey or ice hockey, ballet, and golf display frequent causes of a labral tear due to repetitive pivoting, twisting, kicking, running into other players, or falling.
A labral tear is rarely an injury that happens suddenly. Instead, it often occurs over time when an underlying problem with the hip joint puts additional strain on the labrum. High-level athletes often continue to perform with a labral tear at a somewhat compromised level.
Watch out for these signs of a labral tear of the hip:
Pain deep in the groin
Pain increases with twisting, cutting, and other intense movements
Pain while sitting
Pain while running and walking, especially on inclines
Clicking or locking sounds in the hip area with movement
Feeling unsteady on your feet
A hip labral tear will not heal on its own. Rest and other conservative measures can help manage symptoms of a minor tear. If symptoms persist or the tear is severe, your doctor may recommend surgery.
Surgery to repair a hip labral tear is usually done using a minimally invasive technique referred to as hip arthroscopy. Hip arthroscopy has a high success rate and is considered the safest and most effective method for repairing labral tears.
If you have been dealing with chronic hip pain, get a proper diagnosis by an expert. Dr. Bharam is one of the country's top orthopedists specializing in hip arthroscopy. For an in-depth appointment regarding your hip pain, call .
Dr. Srino Bharam is a board-certified, fellowship-trained sports medicine orthopedic surgeon and professor of orthopedic surgery specializing in the treatment of athletic injuries of the hip and groin. Dr. Bharam has over 20 years of experience in treating injuries and conditions of the hip with the goal of restoring athletes and patients to an active lifestyle.