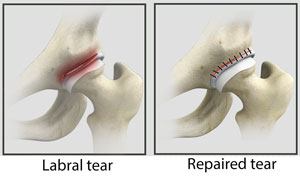 The labrum is a ring of cartilage that acts like a rubber seal or gasket in body joints such as the hip and shoulder. In the hip, the labrum helps secure the ball at the top of your thigh bone into your hip socket. A torn hip labrum can show many symptoms and varying levels of pain and discomfort.
Symptoms of a Torn Hip Labrum
People who are active in sports or other activities such as ballet can have an increased risk of a hip labral tear. Certain hip abnormalities can also cause the labrum to tear. Symptoms include:
A locking hip, or a clicking or catching feeling in the joint
Hip or groin pain
Stiffness or limited hip motion
Treatments for Torn Hip Labrum
Dr. Bharam often begins by prescribing non-surgical treatment for a mildly torn hip labrum. Also many patients seek out Dr. Bharam after already trying non-operative treatments or suffering a serious injury to the hip and labrum. As a pioneering specialist in hip preservation Dr. Bharam's surgical techniques are meant to be at the fore-front of minimally invasive and effective treatments.
Surgery for Torn Hip Labrum
If the labrum is more seriously torn, arthroscopic or open surgery may be needed. During the surgery, Dr. Bharam may remove part of the torn labrum or sew it back together, depending on the situation. Whether you are trying to decide on surgery as an option or have already been told you need surgery Dr. Bharam is happy to review your MRI's to ensure you receive the best treatment possible. Contact our office today to set up your consultation.