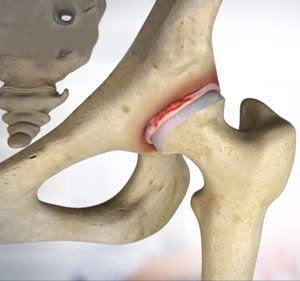 What is a Torn Hip Labrum?
Torn Hip labrum is when internal changes to the tissues, muscles, and bones create problems cause the tissue that cushions the socket to get damaged. Beyond the original trauma, additional problems can result – such as the partial or complete tearing of the labrum, which often described as a rubber seal or gasket.
What Causes Labral Tears of the Hip?
Some of the causes of a torn hip labrum include:
Acute Physical Injury
Anatomical Irregularities
Repeated Motion
Labral Torn Hip Symptoms
Some of the symptoms of a torn hip labrum include:
Instability in the hip
Hip weakness
Catching or clicking in the hip
Decreased athletic ability
Hip pain
Symptoms also include anterior (front) hip pain (most often in the groin area) which could include clicking, locking, or catching of the hip. Along with the main symptoms, stiffness in the joint and instability where the hip and leg seem to give away are also common.
Repairing a Torn Hip Labrum
If a partial tear occurs, the hip's suction seal is disrupted and the joint loses its lubrication and stability. Damage here can lead to arthritis and can even result in hip replacement. It is important to have your hip pain diagnosed and properly treated to minimize any future damage to the hip.
In some cases, the labrum completely separates from the cartilage where it's usually attached. In these cases, open or arthroscopic surgery may be required to repair the torn hip labrum.
These techniques, combined with the advanced techniques being developed and presented on by Dr. Bharam, allow you to recover quickly and effectively.
Please contact our office to learn more about potential treatment for your torn hip labrum concerns.