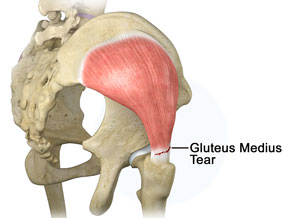 The gluteus medius is a muscle on the outside of the hip. It helps us stand upright and walk properly. A tear in this muscle is often called the "rotator cuff tear of the hip." Gluteus medius tears cause pain, weakness and limping.
Gluteus Medius Tear Treatment
Dr. Bharam typically treats these injuries with rest, anti-inflammatories or physical therapy. If more aggressive treatment is needed, he may recommend an injection. In those cases where patients don't get relief, hip arthroscopy can be the next step.
Surgery to Repair Gluteus Medius
If the tear to the gluteus medius is to large and conservative treatments have been exhausted, surgery may be the next step. Hip arthroscopy is an emerging field within Orthopedics that Dr. Bharam and he Hip and Groin Preservation Center are leading.
This is a much less invasive approach from the past with minimal scaring. Combined with the advanced techniques being developed and presented on by Dr. Bharam you will be able to recover quickly and effectively.
Please contact our office to learn more about potential treatment for you gluteus medius concerns.