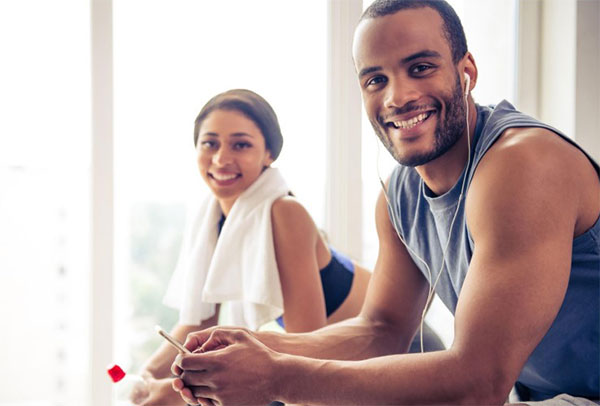 With over 7 million subscribers, Peloton is quickly becoming a household name and fixture. In 2020, Peloton CEO John Foley said the fitness company was aiming for 100 million subscribers. And although leadership has changed at Peloton, the new CEO Barry McCarthy still has that goal in mind.1 With thousands of on-demand fitness classes, can Peloton help you rehab after arthroscopy?
Arthroscopy is a minimally invasive, outpatient surgery performed through very small incisions to evaluate and treat a variety of hip conditions such as labral tears or impingement. Although rehabilitation protocols will be patient specific, the goal of rehab remains the same –restoring strength and function to the hip.
The first few weeks after arthroscopy, the hip needs to rest and recover with gentle exercises and rest. However, at your first PT appointment you may be riding a stationary bicycle with limited movement. Bicycling helps lubricate the hip joint and gently stretches the soft tissue around the hip, which aids in healing. After several weeks and once initial goals are met in rehab, your physical therapist may begin more mild to moderate exercise on a bike to help strengthen the hip and the muscles surrounding it.
Always talk with your doctor and therapist before using exercise equipment at home and go slowly. With that being said, your Peloton bike or app has some great options for helping you rehab after arthroscopy.
Stretching: Explore the Peloton membership for classes that would help gently stretch the hips. There are over 750 stretch classes available in the library that range between 5 to 20 minutes in duration. The classes are divided into 5 different categories like a full-body stretch, upper body stretch, and lower body stretch.
Mental Health: After any surgical procedure, it's important to keep a positive mental attitude. The Peloton app has classes for sleep, relaxation, and meditation that can help keep your mental attitude strong while you strengthen your physical self.
Cardio: Once you have been cleared for beginning a modified cardio workout, there are plenty of classes to choose from on the Peloton app. Once physical therapy has ended and you are getting back to your full activities, consider a training program to help you continue building overall strength. Setting fitness goals and working out with the community can help you achieve those goals after arthroscopy.
Proper fit of the bike and seat positioning is absolutely essential to avoid injury after hip arthroscopy, and remember to speak to your doctor and therapist before beginning any exercise at home. Once you have been cleared, a Peloton bike can help you as you progress through rehab with stretching, mental attitude, and cardio workouts.
Author:
Dr. Srino Bharam is a board-certified, fellowship-trained sports medicine hip preservation surgeon specializing in the treatment of athletic injuries of the hip and groin. Dr. Bharam has over 20 years of experience in treating sports injuries of the hip with the goal of returning athletes to competition.
1. www.cnbc.com/2020/09/15/peloton-thinks-it-can-grow-to-100-million-subscribers-heres-how.html